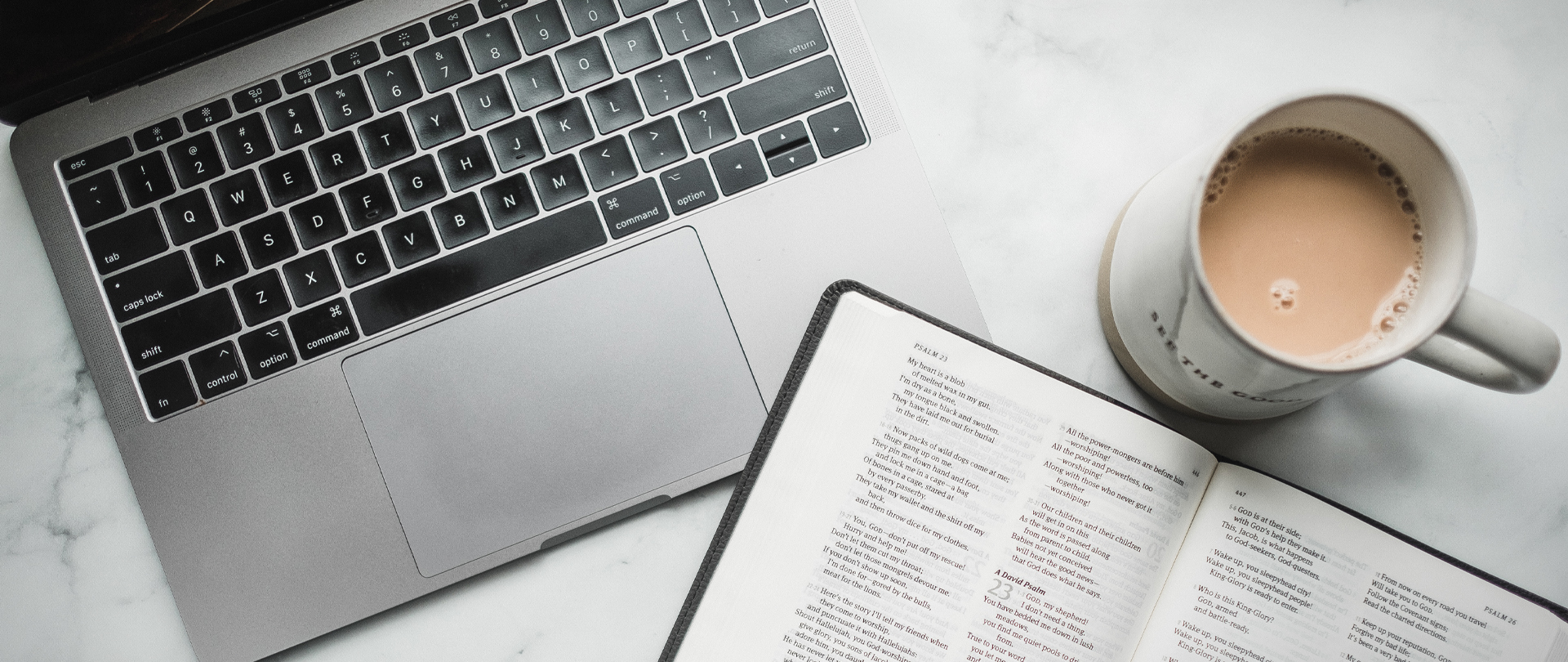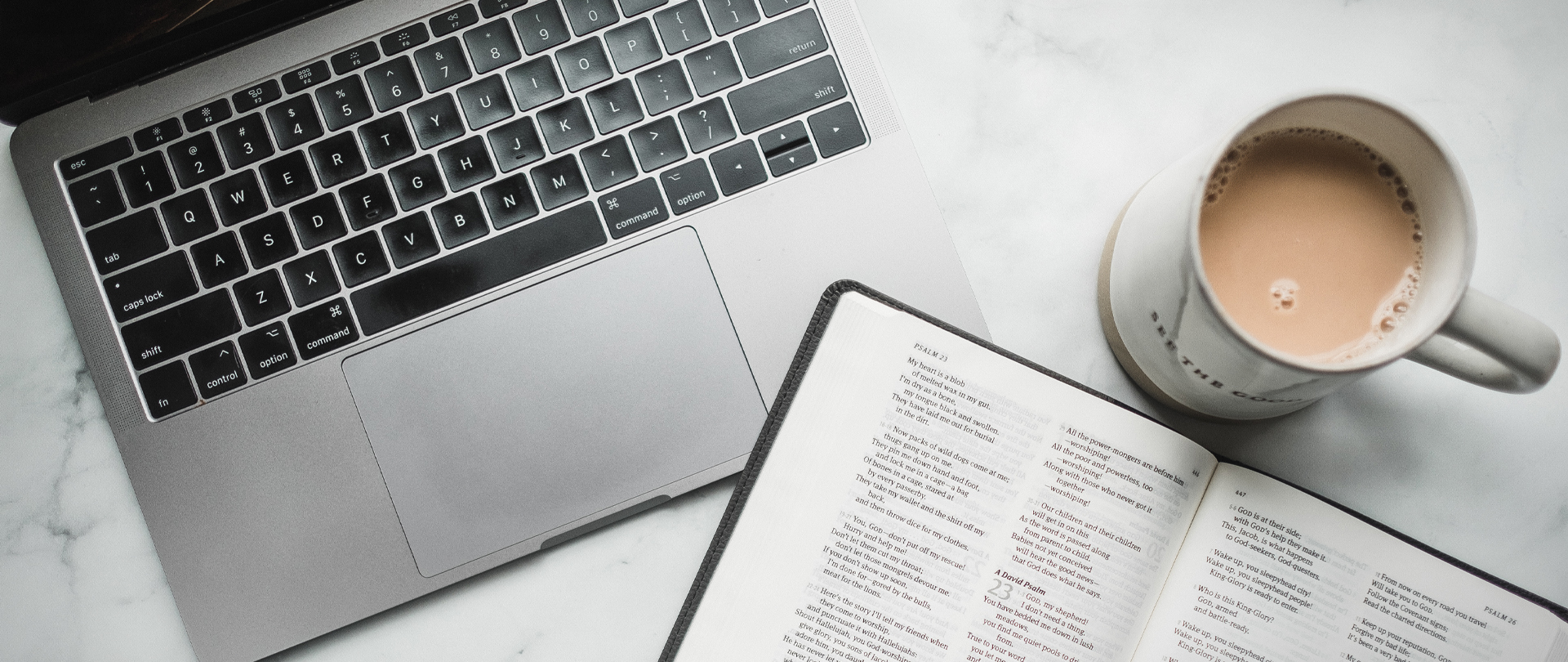 Learn and grow with us! Calvary offers a wide variety of Bible studies to help you grow in your knowledge of God's Word in ways that make a difference in your life. Whether you're a new believer, a long-time follower of Christ, or just curious to learn more, join us!
Elective courses meet on Wednesday evenings in the fall, winter, and spring. Newcomers are always welcome!
Small group Bible studies for women meet on Tuesday mornings and evenings in the fall, winter, and spring. Several men's studies are offered throughout the year. Check out the details below.
Adult Life Groups (ALGs) meet in person and via zoom to study God's Word, pray, and share the joys and challenges of life. We have options for all different ages, including College and Young Adults. We also have ALGs for international and special interests. Click HERE to see all of our ALGs and register!
---
Most Bible studies are holding virtual meetings using Zoom. We are beginning to transition to safe, on-campus classes — see our Gathering Checklist so you'll be prepared. Register for a study and join us to grow together in God's Word!
---
+

Spring Elective Series
Wednesdays, April 28 – May 19
On-Campus & Livestream

Wednesdays, 7:00–8:15 PM | April 28 – May 19
On-Campus & Livestream

We live in troubled times. Political divisions, racial tensions, and a global pandemic are but a few of the challenges we faced over the past year. Indeed, all the world is seemingly in a "vice grip," with pressure mounting each day.

Have you responded as a follower of Christ?

Or has anger, fear, resentment, and worry characterized your behavior? Are you focused on the troubles of this world… or are you looking to Christ? Has your approach to these challenges indicated to others that you are following Christ? Do you radiate the light of our Lord?

Calvary's four themes for 2021 will help keep us focused, committed, and united

as followers of Jesus Christ. In this 4-week elective series, we'll explore the challenges and encourage and equip you to shine as citizens of the Kingdom of Heaven "in such a time as this" (

Esther 4:14

).

We'll meet on campus — masks and social distancing are required.

The series will also be available via

Livestream

and

Facebook Live

each week. We are NOT yet serving Fellowship Dinner, and there is no childcare provided. Please note the 7:00 PM start time!

---

Lights in the Darkness TOPICS:

Obey the Word of God — Pastor Rob Reece
Preserve the Unity of the Spirit — Pastor Jim Cashwell
Stand Firm in the Gospel of God — Pastor Sibu Rajappan
Wait for the Return of Christ — Pastor Nathaniel Pearce

---

Please register below to attend — either in-person or by Livestream. In-person participants will be emailed a specific room assignment for the course due to social distancing requirements. The pastors will rotate each week through the four locations to present their topics.

The registration deadline is April 21 for in-person attendance. There is no deadline for Livestream/FacebookLive participation.

Pick up your copy of the 2021 Calvary Themes in the Galleria or download HERE.

+

Bible Study Electives
Wednesdays, 6:30–8:00 PM
Module 2 now underway!

Our Bible study electives provide the opportunity to grow spiritually by studying God's Word. Whether you're a new believer, a long-time follower of Christ, or just curious to learn more, check out the new courses below and join us!

This semester, most courses were offered twice — in "modules" — to offer everyone more opportunities to participate. We are now in Module 2. All classes are held through Zoom online. Course teachers/leaders will email Zoom login information to participants.

Module 2 | March 10 – April 21 (6 meetings)
Note: No meeting on April 7

To join a current course, please contact Debbie Bordwine to register.

---

Elective Courses

Job: From Where Does My Help Come?
with Doug Goforth & Bob Lanning
The Book of Job fits into the wisdom or poetry books of the Old Testament, but what is its primary message? How does it point us to Christ? Job faced great suffering and learned much about his great God! Join us for an overview of the book discover the lessons we can learn about the help only God can give.

---

God's Plan for Peace in Our Homes
with Pastor Jim Pile
All of us desire homes that are sanctuaries from a world riddled with conflict. But the reality for too many families—even Christian families—is different. Learning to be a peacemaker will guard our home from hurtful conflicts, deepen our love for our spouse, and provide a biblical foundation for children. Join us as we seek to be better peacemakers in our family relationships. Purchase the required text before the first class. Order HERE.

---

A Study in Colossians
with Pastor Jim Cashwell
Can you imagine being a Christian in the first century Colossae? Many left Judaism to follow Christ. Paul wrote to clarify how the Colossians should live and avoid beliefs and practices that distorted the Gospel. Christians today face distractions from false doctrines, unbiblical worldviews, political schisms, and challenges foisted by the pandemic. Join us and learn about the persons and work of Christ and how the supremacy and all-sufficiency of Christ can combat heresies.

---

How to Study the Bible
with Pastor Nathaniel Pearce
The Bible is the only book that came directly from God to mankind. It is God's roadmap for our world and lives. Knowing and applying it brings peace, blessings, joy, and prosperity to our lives. How can we understand it in all its complexities? What are some proven study methods that will help us harvest and apply its truths to our lives? Learn skills that will transform your study of Scripture and your life.

---

Persecution and the Church: Lessons to Live By
with Pastor Rob Reece
It has been said that the "blood of the martyrs is the seed of the church." Yet the church has not only survived persecution, but it has thrived! Today we live in comfort, but growing animosity against authentic Christianity suggests that difficult times are ahead. Are you prepared to suffer for Christ? Would you choose to suffer for righteousness? In this class, we will look to Scripture and to church history for wisdom, encouragement, and lessons to live by during times of trials and persecution.

---

Delighting in the Trinity
with Pastor Sibu Rajappan
Is the doctrine of Trinity confusing, dull, too philosophical, seemingly irrelevant to your Christian life, or does it invoke a sense of awe and delight? The doctrine of the Trinity is foundational to adequately understand the God of the Bible, His love, purposes, holiness, and glory. Dive deep into Scripture with us as we study the doctrine of the Trinity and deepen your understanding of our Great Triune God.

---

Wednesdays, January 13 – March 24 (9 weeks)

Spanish Bible Study — Biblical Foundations of the Apostles' Creed
with Bill Ogden
The Bible is the only inspired and infallible word from God that guides our faith and lives. On the other hand, creeds are statements of belief traditionally used by many churches and impact their doctrine. What was the purpose of the Apostles' Creed? What is its biblical foundation? How has this creed guided the Church in the affirmation of its faith? Have you ever examined the tenets of this creed? Come study with us, deepen your understanding of God's Word, and develop a greater appreciation for the Apostles' Creed.

Fundamento Bíblico del Credo de los apóstoles
La Biblia es la única palabra inspirada e infalible de Dios que guía nuestra fe y nuestra vida. Los credos, por otro lado, son declaraciones de creencias utilizadas tradicionalmente por muchas iglesias e impactan su doctrina. ¿Cuál fue el propósito del Credo de los Apóstoles? ¿Cuál es su fundamento bíblico? ¿Cómo ha guiado este credo a la Iglesia en la afirmación de su fe? ¿Ha examinado alguna vez los principios de este credo? Ven a estudiar con nosotros, profundiza tu comprensión de la palabra de Dios y desarrolla un mayor aprecio por el Credo de los Apóstoles.

---

Financial Peace University
With Rhondale & Deborah Haywood
This 9-week class uses Dave Ramsey's biblically based video curriculum and small group discussion to explore what God has to say about money and our stewardship of the same. Participants must purchase a kit containing a workbook, audio library, a book, lifetime membership, etc. The cost is $129 per kit for a couple or an individual.

---

Wednesday Night Prayer — Ongoing
with Paul Hundrieser
Please join us each Wednesday evening. We will pray for each other, Calvary Church, our community, our nation, and our world during this time. We meet continually throughout the year. Register to receive an email with the Zoom meeting login info.

---

Questions about Bible study electives?
Contact: Pastor Rob Reece, 704.887.3696, rreece@calvarychurch.com
Debbie Bordwine, 704.341.5328, dbordwine@calvarychurch.com

+

Women's Spring Bible Studies
Tuesdays, April 27 – June 1
AM & PM options via Zoom

Ladies, check out our new spring Bible studies! You're sure to find a place to grow spiritually and connect with friends. Newcomers are always welcome!

We meet on Tuesdays at 9:30 AM or 7:00 PM. Classes will meet via Zoom. Please register below to receive the Zoom credentials. Participants should purchase their own course materials in advance using the links provided in the descriptions below.

---

Tuesday Morning Classes
April 27 – June 1, 9:30 AM–Noon

2 Timothy — Precept Upon Precept
by Kay Arthur
Teacher: Jackie Schaffer
Knowing his earthly ministry was coming to an end, the apostle Paul writes his last epistle to his closest and dearest companion, Timothy. For some time, Paul had regarded Timothy as his son in the faith. So he is writing as a father who knows he is leaving his son; his words encourage and strengthen Timothy to be faithful to the Gospel in the face of hardship and persecution. Join us as we study to see how this message applies to all believers today as we strive to faithfully serve our Lord and Savior in times of uncertainty. Please review the first lesson before the first day of class. Purchase the required text before the first class. Order HERE.

---

A Great Cloud of Witnesses — International Women's Class
by Trillia J. Newbell
Teacher: Cheri Strahm
We need heroes today! This six-week study examines the stories of God's "imperfect but faithful" people featured in Hebrews chapter 11 — heroes of the faith who remained strong in difficult times. We'll learn together about Rahab, Enoch, Gideon, Sarah, and more people from the Old Testament. Our goal? To imitate their faith and become stronger in trusting our amazing God. This study group is designed for international women for whom English is a second language. Cheri also teaches ESL courses at Calvary. Purchase the required text before the first class. Order HERE.

---

Our Sovereign God — The Book of Ezra
by Jeanine Vogel
Teacher: Jan Adams
In a day of ungodly leadership, political unrest, and strong opposition to biblical truth, people need hope. Ezra, Zerubbabel, Zechariah, and Haggai lived in our kind of world. As you study the biblical record of their lives, the goal is that you will commit to being a woman of unshakable faith, unafraid to take action, boldly proclaiming God's truth, and watching for the mighty acts of our sovereign God. Purchase the required text before the first class. Order HERE.

---

Tuesday Evening Class
April 27 – June 1, 7:00–9:00 PM

A Great Cloud of Witnesses — International Women's Class
by Trillia J. Newbell
Teacher: Cheri Strahm
We need heroes today! This six-week study examines the stories of God's "imperfect but faithful" people featured in Hebrews chapter 11 — heroes of the faith who remained strong in difficult times. We'll learn together about Rahab, Enoch, Gideon, Sarah, and more people from the Old Testament. Our goal? To imitate their faith and become stronger in trusting our amazing God. This study group is designed for international women for whom English is a second language. Cheri also teaches ESL courses at Calvary. Purchase the required text before the first class. Order HERE.

---

Contact: Dr. Nathaniel Pearce, 704.341.5424, npearce@calvarychurch.com, Jennifer Sharpless, 704.341.5417, jsharpless@calvarychurch.com, or Jenna Mascia, 704.517.6606, jmascia@live.com

+

Men's Bible Studies
Winter/Spring 2021
Monday & Tuesday AM & PM via Zoom

Our men's Bible study groups meet weekly — choose an early morning or evening group! Grow in your knowledge of God's Word and enjoy the fellowship. Newcomers are welcome any time.

Our winter/spring sessions will meet via Zoom video conference initially. We'll keep you updated about any plans to shift to in-person meetings on campus as we monitor the COVID–19 situation.

Check out the new studies and register below. You will receive Zoom credentials by email.

---

Monday Morning Studies

Mondays, 6:30–7:30 AM | March 15 – June 7

1st & 2nd Peter
Tom Miller
These letters were written by the Apostle Peter, one of Jesus' "inner three." Here the apostle encourages all the churches, including us today, to stand firm in our faith in difficult times, while staying alert to false teachers—all of which are important principles to live by in a troubled world. We will do a verse-by-verse study of both books, while encouraging open discussion and application. Come join the fellowship in His word!

---

Mondays, 6:30–7:30 AM | January 11 – May 17

The Book of John
Dave Wentink
Please join us as we continue our study in the Gospel of John. We expect to grow deeper into our understanding of Jesus, the Son of God, and God's expectations for our lives. Each week the group is facilitated by a different member and allows for lively discussion, and a diverse perspective on each verse or chapter being studied. Open your Bible and join us!

---

Tuesday Morning Studies

Tuesdays, 6:30–7:30 AM | January 12 – May 18

---

The Battle Plan for Prayer
Jeff Arrington & Sy Pugh
This study will help us develop a deeper walk with God in our daily spiritual battles. We will use the Bible, plus an excellent study book to help us create a personal prayer strategy. Topics include: what prayer is and is not, why God wants us to pray, specific areas of prayer, strategies for prayer, and more! Order course materials HERE.

---

The Book of Jeremiah
Terrill Nelson & Doug Harper
As we examine the life, times, and events around the prophet Jeremiah, we find that Jeremiah's time bore some similarities to ours. Jeremiah encountered corrupt political and religious leaders, people trapped in a failing system—all while surrounded by powerful, sinister enemies. This study will explore the intrigue and the suspense of foolish kings, prophets, and foreign world powers, as well as the judgment and mercy of God that make this prophetic book worth our time. Order course materials HERE.

---

Tuesday Evening Study

Tuesdays, 7:00–8:30 PM | January 12 – May 18

Hebrews: The Superiority of Jesus Christ
Wayne Hackbarth
Join us for a line by line study in Hebrews. Like the early believers, we sometimes find ourselves drifting in the kingdom due to life's distractions. Hebrews is a welcome exhortation to refocus on the person and power of Jesus Christ. This class will use a study resource guide. Order course materials HERE. Contact: Wayne Hackbarth, 704.641.3472, lovinminthill@gmail.com

---

Contacts: Pastor Nathaniel Pearce, 704.341.5424, npearce@calvarychurch.com & Helen Stewart, 704.887.3681, hstewart@calvarychurch.com

+

Daily Bible Reading Plan
Join us on a chronological journey
through God's Word

At Calvary, preaching and teaching the Word of God is central to who we are as a church family, and it is essential that each one of us spends time reading the Bible every day.

In 2021, we begin year one of a two-year daily Bible reading plan that takes us chronologically through the Bible! If you've always wanted to read the entire Bible and get a big-picture perspective through history, this reading plan is a great option.

Download the PDF below and print a copy to keep in your Bible. Copies will be available in the Galleria beginning January 3.

---

Complete the 2020 Daily Bible Reading Plan with us:

Download the 2020 plan as a PDF