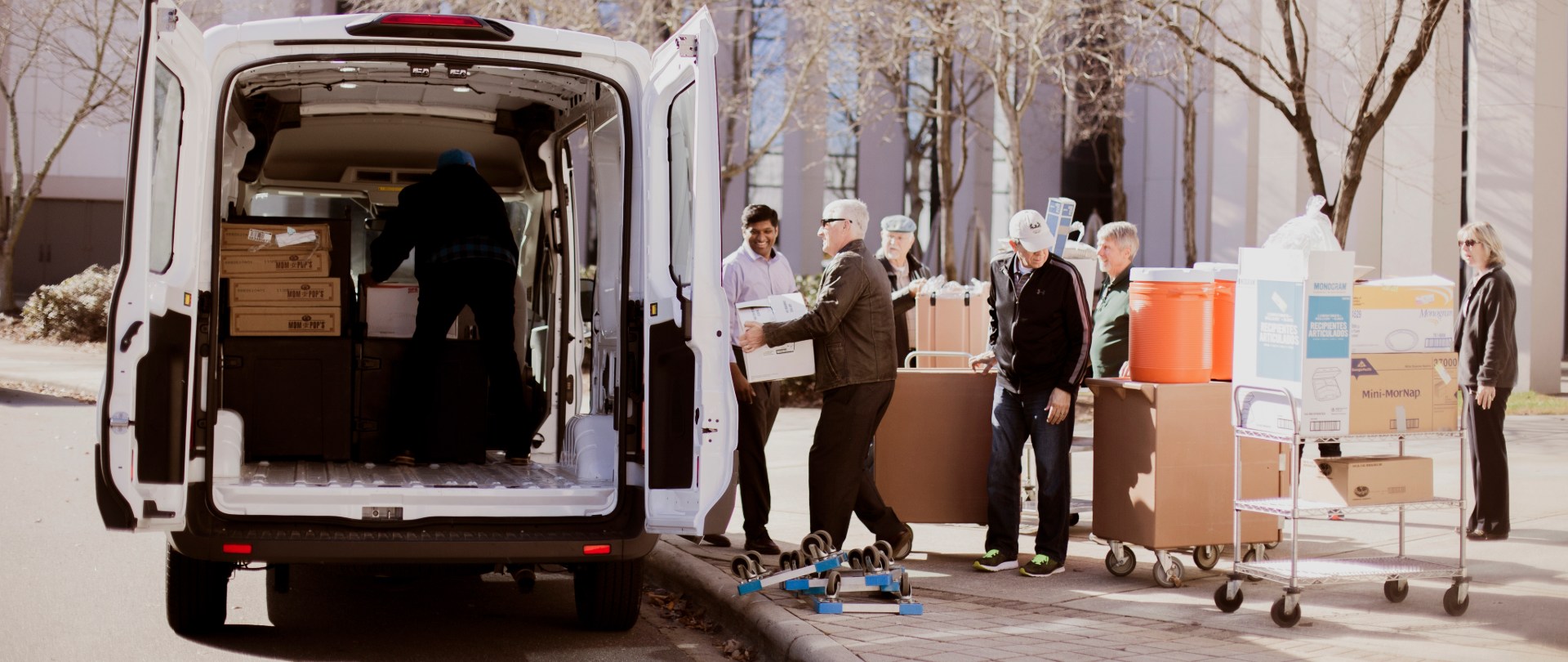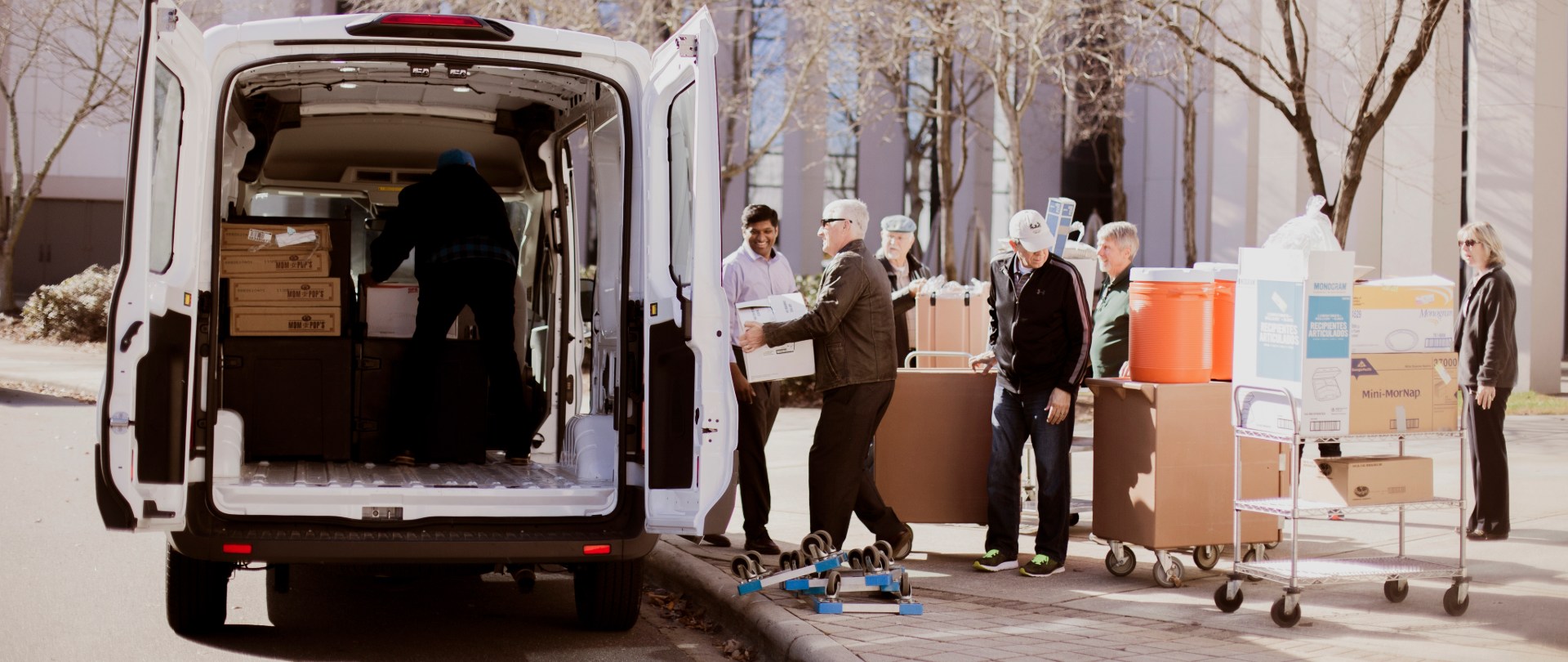 Please read our current update regarding services and activities. This impacts all listed activities and opportunities.
As authentic followers of Christ, we want to be active in our faith and serve Christ by serving others.
It's easy to get involved! Below is a list of current and ongoing ministry needs and outreach opportunities. You can also check out our Local Ministry Partners for additional opportunities to serve.
+

Food Pantry Donations
Drop-off on MWF, 9:00 AM–Noon
Thank you for your support!

The Calvary Food Pantry provides for families in need at Calvary and throughout our community.

Currently, we are supporting about 147 families, including over 190 children, in local elementary schools where we host Good News Bible Clubs during the school year. These families rely on the meals provided for their children at school, which are unavailable when schools are closed and during the summer months.

We need your help to support these families through the Calvary Food Pantry.

You may drop off donations at the Calvary Galleria on the carts outside under the awnings on Mondays, Wednesdays, and Fridays between 9:00 AM and noon.

Thank you for your continued generosity and support!

---

Contacts: Crystal Crawford, sccrawfords@yahoo.com & Pastor Sibu Rajappan, 704.907.7497, srajappan@calvarychurch.com

+

Coach with CHAMP Sports
Training Provided


Interested in being a CHAMP coach? We offer leagues for soccer (ages 3–18), flag football (6–17), T-ball (5-6), baseball (7–8), and basketball (ages 5–18). Just three hours a week can make a huge impact on the lives of our CHAMP kids and families! No prior coaching experience is necessary and training is provided!

---

Visit the CHAMP website at www.champsportsinfo.com for full details.

---

Contact: Kelly Lamb, 704.887.3689, klamb@calvarychurch.com

+

Calvary Cricket Tournament
Summer Saturdays
Postponed until further notice

Calvary Cricket Tournament
Summer Saturdays
8:30 AM–5:30 PM, Rea Road Field

Do you have a desire to engage internationals in our community and share your faith in Christ? Join us this summer for the second annual Calvary Cricket Tournament. Cricket is played in over 100 countries and is a great way to reach internationals and their families. We'll play five games each Saturday for our tournament.

Here's how you can help:

Hospitality Volunteers — greet players as they arrive, welcome and engage families and spectators, and serve water to the players
Game Coordinators — help organize games on Saturdays
Pitch Maintenance — volunteer to maintain the pitch
Field Crew — assist during games


Info & Orientation Meeting — Postponed until further notice
Come learn more about this outreach and have your questions answered!

Time slots
Pitch Maintenance (need)
Game Coordinators (need)
Hospitality (need)
Field Crew (need)

June 13

8:00 AM

10:00 AM

12:00 PM

2:00 PM

Need 4

Need 1

Need 2

Need 2

Need 2

Need 2

Need 2

Need 2

Need 2

Need 2

June 20

8:00 AM

10:00 AM

12:00 PM

2:00 PM

Need 4

Need 1

Need 2

Need 2

Need 2

Need 2

Need 2

Need 2

Need 2

Need 2

June 27

8:00 AM

10:00 AM

12:00 PM

2:00 PM

Need 4

Need 1

Need 2

Need 2

Need 2

Need 2

Need 2

Need 2

Need 2

Need 2

July 11

8:00 AM

10:00 AM

12:00 PM

2:00 PM

Need 4

Need 1

Need 2

Need 2

Need 2

Need 2

Need 2

Need 2

Need 2

Need 2

July 18

8:00 AM

10:00 AM

12:00 PM

2:00 PM

Need 4

Need 1

Need 2

Need 2

Need 2

Need 2

Need 2

Need 2

Need 2

Need 2

July 25

8:00 AM

10:00 AM

12:00 PM

2:00 PM

Need 4

Need 1

Need 2

Need 2

Need 2

Need 2

Need 2

Need 2

Need 2

Need 2

August 1

8:00 AM

10:00 AM

12:00 PM

2:00 PM

Need 4

Need 1

Need 2

Need 2

Need 2

Need 2

Need 2

Need 2

Need 2

Need 2

August 8

8:00 AM

10:00 AM

12:00 PM

2:00 PM

Need 4

Need 1

Need 2

Need 2

Need 2

Need 2

Need 2

Need 2

Need 2

Need 2

---

Contacts: Pastor Sibu Rajappan at 704.341.5336, srajappan@calvarychurch.com & Manoj Kothuri, 704.918.2846, mkothuri@yahoo.com

+

ESL Volunteers
Teachers & assistants needed
On summer break

Interested in teaching or assisting our international ESL students? Our ESL classes meet on Mondays and Thursdays, 9:00 AM–Noon, September through May.

We have an ongoing need for additional volunteers to help provide a welcoming and high-quality program to international students of all backgrounds who are interested in building their English skills. We invite you to join our ESL team!

For more information about Calvary's ESL classes, click here.

---

Questions? Interested in signing up to volunteer? Contact: Vince Eaton, 704.341.5322, veaton@calvarychurch.com

+

Good News Clubs
Bible teachers needed at area schools
On summer break

Calvary currently partners with Child Evangelism Fellowship (CEF) to lead 10 Good News Clubs in five public elementary schools.

If you can commit three hours per week for eight weeks this coming fall, we need your help as a Bible teacher, assistant, or administrative helper. Training is provided.

We plan to start five new after-school clubs, so we'll need 25 additional volunteers. Join us to share the Gospel with kids in our community!

---

Contact: Pastor Sibu Rajappan, Pastor of Outreach, 704.341.5336, srajappan@calvarychurch.com


+

GO2Proclaim
3rd Saturdays at 1 PM
Postponed until further notice

GO2Proclaim Conversational Evangelism
3rd Saturdays at 1:00 PM

Interested in fulfilling the Great Commission? Learn how to engage people in Gospel conversations with grace and love. Join our GO2Proclaim team on the third Saturday of each month for training at the Calvary Café at 1:00–1:30 PM. Then we'll head out to nearby walking trails and parks for conversational evangelism.

---

Questions? Contact: Pastor Sibu Rajappan, 704.341.5336, srajappan@calvarychurch.com



+

Hearts & Hammers
Serve one Saturday a month
Postponed until further notice

The men on Hearts & Hammers teams serve one Saturday morning each month tackling general household repairs and home maintenance for Calvary members who need a helping hand on an ongoing basis.

Important: Please read our update regarding current services and activities.

Ready to join us? Training sessions are scheduled at 8:45–9:30 AM in Room 226 on select Saturdays. To allow for preparation and any real-time updates, online registration is required at least two days prior to the training date.

+

Jail Ministry
Male Bible teachers needed
Postponed until further notice

Did you know we have the opportunity to lead Bible study with inmates at Mecklenburg Jail Central at least once a month for men and weekly for women? We have a current need for men to teach and ongoing opportunities for women.

Do you have a heart to share the Gospel? Interested in learning more? Contact: Judy McElhaney, judyb.mcelhaney@gmail.com

---

Contact: Pastor Sibu Rajappan, 704.341.5336, srajappan@calvarychurch.com

Our Martha Ministry team supports the Calvary family by providing a meal at the church before or after the funeral of immediate family members. Volunteers are assigned to rotating teams and might serve 3-4x per year by preparing a covered dish and delivering it ready to serve.

Contact: Dalene Ingle at 704.573.0491 or digiolde@carolina.rr.com

Be an encouragement to our senior adults by making regular phone calls through our Senior Telecare ministry. Callers share Scripture and pray with people over the phone. A great opportunity for those with a flexible schedule!

---

Contact: Pastor Jim Pile, 704.341.5359, jpile@calvarychurch.com

+

Special Needs Serving
Sunday needs & Short-term missions

Special Needs Ministry
Sundays mornings

Calvary has been blessed to receive several new families and students into our ministry. Will you help our Special Needs Ministry by serving as a Teacher, Assistant Teacher, Friends/Buddy, or Parent Partner on Sunday mornings?

Our current need is for four new volunteers to serve in our Preschool–1st grade class: two on the 1st & 3rd Sundays and two on the 2nd & 4th Sundays. A background check is required.

We also have opportunities for volunteers to serve at our events throughout the year. Thank you!

Contact: Rebekah Sanders, 704.341.5413, rsanders@calvarychurch.com

---

Special Needs Family Retreats
July 19–23 or August 3–7 & 10–14

Interested in a short-term missions opportunity this summer? Serve as a loving volunteer at one of the Joni and Friends Family Retreats at Fort Bluff Conference Center in TN July 19–23 or at Bonclarken Conference Center in Flat Rock, NC on August 3–7 and 10–14. Volunteers will offer assistance to special needs families so they can relax, get refreshed, and participate in activities care-free.

Find out more details how you can encourage and help care for these families with disabilities. Training is provided.

Contact: Pastor Jim Cashwell, jcashwell@calvarychurch.com

+

Street Ministry
Serving breakfast uptown on Saturdays AM
Postponed until further notice


Calvary Street Ministry volunteers serve breakfast to hundreds of homeless neighbors every Saturday in uptown Charlotte at Hal Marshall Annex, 618 N. College Street. Participate in food preparation at Calvary, or help deliver and serve the meal. New volunteers are always welcome!

---

Contact: Pastor Sibu Rajappan, 704.341.5336, srajappan@calvarychurch.com or Pete Mayo, 704.778.1346, pete.mayo@yahoo.com

Our Stuffing Team faithfully inserts flyers and handouts into our Looking Up newsletter for distribution every Sunday. They meet on Saturday mornings from 8:00–9:45 AM.

Serve as needed or volunteer as a backup for the busy holiday seasons.

Contact: Wanda Moen, wsmoen@gmail.com

+

Worship Ministries
Choir, Orchestra, Band & Tech

Our Calvary Choir, Orchestra, Band and Tech Team are made up of Calvary members of all ages who serve on Sundays in our worship service. We prepare each week during "Wednesday Worship" where we not only rehearse, but also grow together through prayer and rich community.

We invite everyone who might be interested in any capacity to attend rehearsal and explore serving in worship. Extensive musical experience is not required and training is provided for all tech team roles. The most important qualification is having a heart for Christ-centered, God-glorifying worship!

Click here to learn more about Worship Ministries or email Christy Driscoll at cdriscoll@calvarychurch.com to sign up for a rehearsal. (Rehearsals typically run 6:30–8 PM on Wednesdays.)

Contact: Christy Driscoll, 704.887.3687, cdriscoll@calvarychurch.com