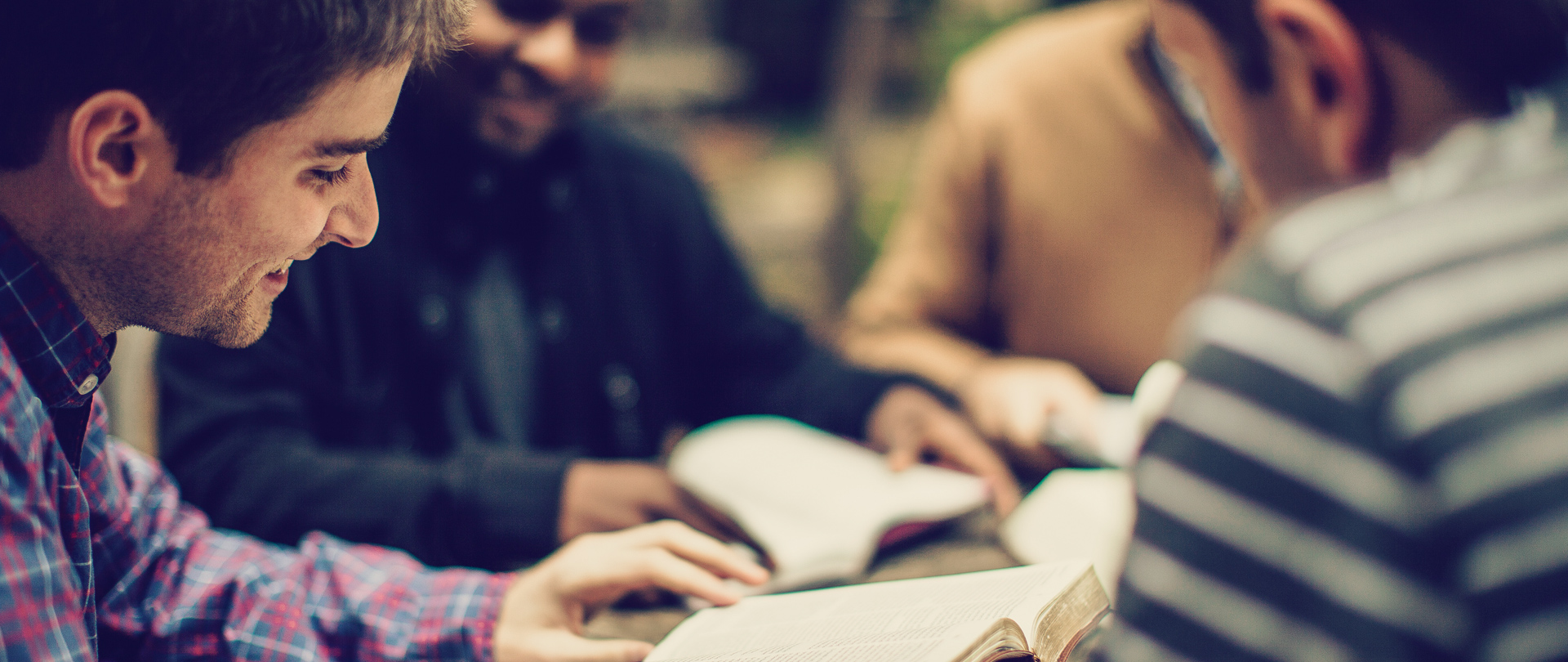 The strength of a church is often reflected in the strength of its families, and the strength of a family is often as strong as the man who leads it.
The men of Calvary Church help to strengthen families in our church and community through fellowship and serving.
Check out our upcoming events for men, or spend some quality guy time in one of our Men's Bible studies or serving opportunities, such as Hearts & Hammers!
Want more info? Contact: Pastor Jorge Prado, 704.341.5337, jprado@calvarychurch.com or Jennifer Sharpless, 704.341.5417, jsharpless@calvarychurch.com.
+

Men's Summer Bible Study
"Before Amen" starts June 13
Tuesdays, 7:00–9:00 PM

"Before Amen"
Tuesdays, 7:00–9:00 PM, Room 401

June 13 & 27 | July 11 & 25

|

August 8 & 22

God invites us to have conversation with Him to deepen our relationship. But making prayer a regular part of our busy lives can be challenging! This six-session series will teach you to let go of uncertainties about prayer, trust that God hears, and embrace a prayer life that brings peace and rest. The study will include a brief DVD by Max Lucado and discussion time.

Join us at any time. Just register in class when you arrive!

Cost: $9, with study guide

"Call to me and I will answer you" Jeremiah 33:3

+

Men's Bible Studies
Ongoing morning & evening groups
Join us this summer!


Small groups meet weekly for Bible study to enrich their faith and grow in fellowship. Bring your Bible — newcomers are welcome anytime!

---

Morning Studies

Monday Mornings, 6:30–7:30 AM

Ephesians
Room 242 | Dave Wentink
This study in the book of Ephesians teaches how to live a Spirit-filled life, discover how to overcome sin, integrate the Word into everyday life, be a better witness to others, and fulfill the plan God has designed for you!

Minor Prophets
June 5 – August 28
Conference Room A (4th Floor) | Tom Miller
This verse-by-verse study will examine the five early minor prophets: Joel, Jonah, Amos, Hosea, and Micah. We will see vivid pictures of God's coming judgment with warnings and calls for repentance, as well as His immeasurable mercy, grace, and love. This message is especially relevant to our lives today.

Tuesday Mornings, 6:30–7:30 AM

Gospel of John — Study resumes in September
Room 306 | Bill Harding
We all long for a full, rich, satisfying life. But how do we fill up the empty places in our soul? How can we quench our thirst for something deeper, more lasting, more meaningful? John urges us to take a fresh look at Jesus and invites us to renew our faith in the One who promises to be the way of true life.

Detours Bible Study
Stone Crest Chick Fil A | Jeffrey Arrington & Sy Pugh
Join us for this powerful study by Tony Evans that examines the life of Joseph as he endures trials, injustice, and even betrayal. Believers will ultimately find comfort and encouragement as we learn to trust in God's redemptive plan and sovereign will. Newcomers welcome!

---

Evening Study

Thursdays, 7:00–8:30 PM

Understanding Biblical Prophecy
Summer Dates: June 8 & 22 // July 13 & 27 // August 10 & 24
Room 227 | Brian Cooper
How do we make sense of biblical prophecy in 2017? In our continuing study of the Old Testament prophetic books, we will focus on Isaiah. We'll also look at Kings and Chronicles to help us understand historically the prophecies and messages delivered by God through His spokesmen. These passages will reveal God's faithfulness, love, grace, and sovereignty. Sessions will include videos, helpful illustrations, and charts.
Contact: Brian Cooper, 704.341.0647, bac47@carolina.rr.com

---

Questions about Men's Ministry?
Contacts: Pastor Jorge Prado, 704.341.5337, jprado@calvarychurch.com
Jennifer Sharpless, 704.341.5417, jsharpless@calvarychurch.com

+

Hearts & Hammers
Next Training: Saturday, July 15

Men, join a team to do household repairs and yard work for Calvary members who need a helping hand!

Teams gather first at Calvary once a month for devotions and prayer before heading out to their assigned home. Teams support the same care receiver on a regular basis to complete work and build relationships.

Ready to join us? The next training session is scheduled at 8:45–9:30 AM on July 15 in Room 226. To allow for preparation and any real-time updates, online registration is required at least two days prior to the training date.

Chuck Robinson

at

chuckrobinson@windstream.net

or

Jennifer Sharpless

, 704.341.5417,

jsharpless@calvarychurch.com

+

A Place of Hope
July 24–31: Shelter, meals & hospitality
Female Overnight Hosts needed!

"For I was hungry and you gave me food, I was thirsty and you gave me drink, I was a stranger and you welcomed me" (Matthew 25:35).

---

In partnership with area churches and the Salvation Army, Calvary will be providing meals and shelter for 10–12 homeless women from July 24–31 to offer a place of hope during a time of need.

Each afternoon, we will be bringing the group from the uptown Salvation Army center to our CLC for dinner, an evening activity, and an overnight stay in our "guest rooms." Each morning, we will provide transport back to the Salvation Army so the group can participate in their day program.

---

Thank you for the tremendous response for additional volunteers to support this new ministry opportunity!

Remaining needs:

Overnight Hosts (Women Only) sleep in the CLC building with guests through the night. Beds and linens are provided! Hosts arrive at 7:00 PM and may leave by 5:30 AM after the morning greeters have arrived. Hosts will pray with the women each night, make sure lights are out by 10:00 PM, assist with waking women at 5:00 AM, and keep overall watch. At this point, we do still need hosts for Saturday and Sunday evenings.

Bedding: 12 pillows, 30 sets of flat & fitted twin size sheets, 12 twin blankets or quilts. We are happy to borrow and return gently used bed linens.

Morning Greeters will arrive on-site no later than 5:30 AM. They will help serve breakfast and get guests ready to board the bus by 7:00 AM. (Various times still needed.)

Evening Greeters will welcome our guests as they arrive each night. Greeters will arrive on-site no later than 6:45 PM. (Various times still needed.)

Needs for the following roles have been filled:

Setup & Tear Down Helpers will creatively set up and decorate the designated CLC classrooms for the guests.

Weekday Evening Hosts Families or individual women from Calvary will have dinner and participate in activities with the guests.

Weekend Activity Hosts will plan and arrange activities for women on Saturday and Sunday. Suggested activities include a crochet club, boutique, beauty/hygiene/wellness activities (pedicure, manicure, hair styling).

Van Drivers pick up our guests in the morning and evenings at the Salvation Army Center uptown. Approved drivers may choose to volunteer for one or more days to drive our rental vans.

---

Find Out More!

Orientation & Training Meetings | Sunday, July 9, 12:30–2:30 PM, Banquet Room
or Wednesday, July 12, 6:30–8:30 PM, Banquet Room
Choose ONE and plan to attend this mandatory meeting. All volunteers will be trained for their specific serving roles!

---

Thank you for your prayers and your support as we plan to make our guests welcome and demonstrate the love of Christ in these practical and meaningful ways.

Interested in serving? Contact Sibu Rajappan at srajappan@calvarychurch.com or Debbie Bordwine at 704.341.5328 or dbordwine@calvarychurch.com.