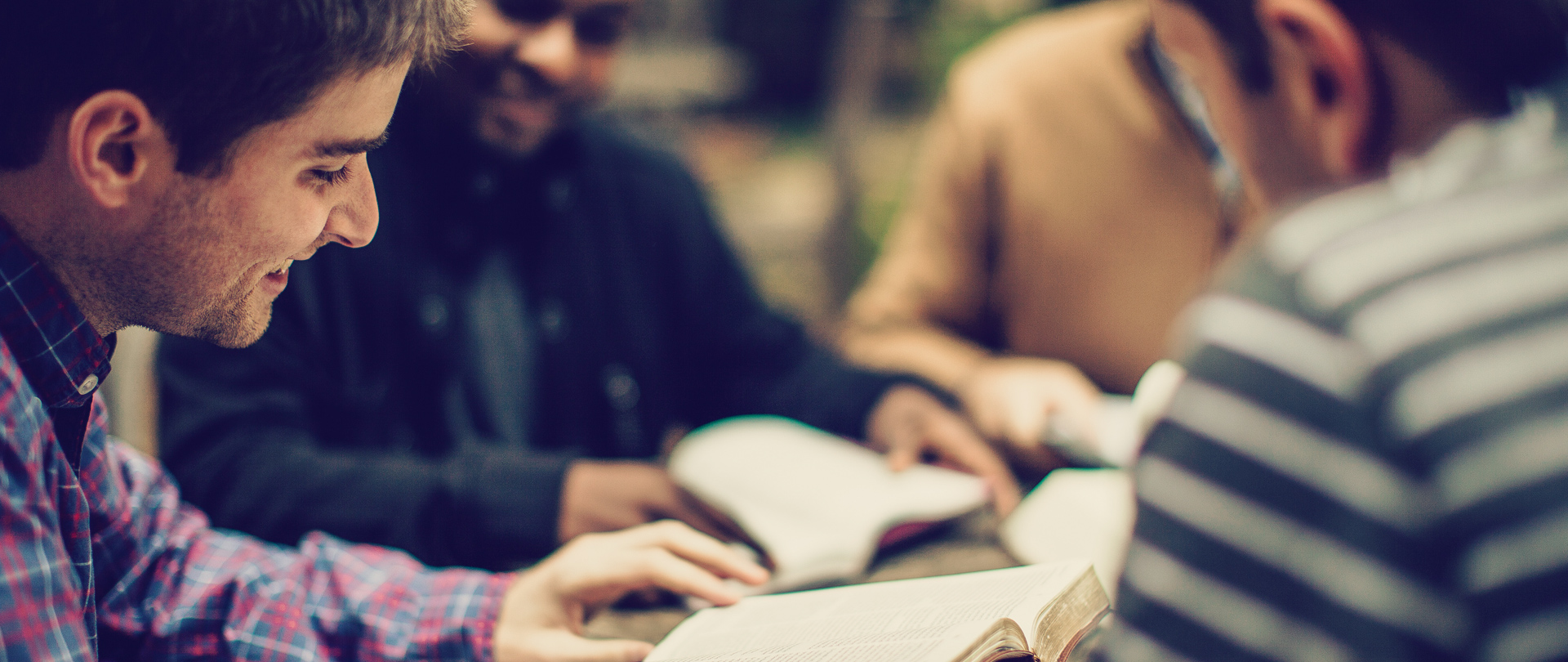 The strength of a church is often reflected in the strength of its families, and the strength of a family is often as strong as the man who leads it.
The men of Calvary Church help to strengthen families in our church and community through fellowship and serving.
Check out our upcoming events for men, or spend some quality guy time in one of our Men's Bible studies or serving opportunities, such as Hearts & Hammers!
Want more info? Contact: Pastor Jorge Prado, 704.341.5337, jprado@calvarychurch.com or Jennifer Sharpless, 704.341.5417, jsharpless@calvarychurch.com.
+

Men's Bible Studies
Fall AM & PM groups


Small groups meet weekly for Bible study to enrich their faith and grow in fellowship. Bring your Bible — newcomers are welcome anytime!

---

Morning Studies

Monday Mornings, 6:30–7:30 AM

Ephesians
September 11 – November 20
Room 242 | Dave Wentink
This ongoing study in the book of Ephesians teaches how to live a Spirit-filled life, discover how to overcome sin, integrate the Word into everyday life, be a better witness to others, and fulfill the plan God has designed for you!

Gospel of Luke
September 11 – November 20
Conference Room A (4th Floor) | Tom Miller
New study topic starts September 11! This verse-by-verse study will examine the Gospel of Luke. We will see vivid pictures of Jesus' love and compassion in the many lives He touches on His way to the cross. This in-depth study includes a weekly lesson and group discussion.

Tuesday Mornings, 6:30–7:30 AM

Gospel of John
September 5 – November 21
Room 306 | Bill Harding
We all long for a full, rich, satisfying life. But how do we fill up the empty places in our soul? How can we quench our thirst for something deeper, more lasting, and more meaningful? John urges us to take a fresh look at Jesus and invites us to renew our faith in the One who promises to be the way of true life.

Detours Bible Study
September 5 – November 21
Stonecrest Chick-Fil-A | Jeffrey Arrington & Sy Pugh
Join us for this powerful study by Tony Evans that examines the life of Joseph as he endures trials, injustice, and even betrayal. Believers will ultimately find comfort and encouragement as we learn to trust in God's redemptive plan and sovereign will. Newcomers welcome!

---

Evening Studies

Tuesdays, 7:00–8:30 PM

Romans: Our Cornerstone
September 5 – December 12
Room 401 | Wayne Hackbarth
New group topic starts September 5! Romans is Paul's guidebook to the Christian doctrine. It's a proclamation of God's glory and an encouragement to our faith. We are reminded of God's love for us and assured of His desire for a relationship with all believers. This book is rich in truths that help us live as authentic Christians. Join us for this conversational study! Bring your Bible and a hungry heart. Contact: Wayne Hackbarth, 704.641.3472, wayne@webwrightcarolina.com

---

Thursdays, 7:00–8:30 PM

Making Sense of Biblical Prophecy
September 7 – December 14
Room 241 | Brian Cooper
In our continuing study of the Old Testament prophetic books, we will focus on Kings and Chronicles to better understand God's prophecies delivered through His spokesmen. These passages will reveal God's faithfulness, love, grace, and sovereignty. Sessions will include videos, helpful illustrations, and charts. Contact: Brian Cooper, 704.341.0647, bac47@carolina.rr.com

---

Questions about Men's Ministry?
Contacts: Pastor Jorge Prado, 704.341.5337, jprado@calvarychurch.com
Jennifer Sharpless, 704.341.5417, jsharpless@calvarychurch.com

+

Hearts & Hammers
Next training October 21

Men, join a team to do household repairs and yard work for Calvary members who need a helping hand!

Teams gather first at Calvary once a month for devotions and prayer before heading out to their assigned home. Teams support the same care receiver on a regular basis to complete work and build relationships.

Ready to join us? The next training session is scheduled at 8:45–9:30 AM on October 21 in Room 226. To allow for preparation and any real-time updates, online registration is required at least two days prior to the training date.

Questions about Hearts & Hammers? Contact Chuck Robinson at chuckrobinson@windstream.net.

---

Contact: Jennifer Sharpless, 704.341.5417, jsharpless@calvarychurch.com

+

Veterans Day Breakfast
Saturday, November 11
8:30–10:00 AM, Crown Room

Veterans Day Breakfast
Saturday, November 11
8:30–10:00 AM, Crown Room

Everyone is invited to our Veterans Day Breakfast at Calvary Church as we honor military veterans and active service personnel of all ages and their spouses. Guests will enjoy a delicious breakfast buffet, warm fellowship, great music, and an inspirational message.

Our featured speaker will be Dr. Don Bouldin. He served as a US Army combat Chaplain in Vietnam — he's also a retired local pastor.

Don't miss this patriotic morning! Cost: $7

---

Contact: Jennifer Sharpless, 704.341.5417, jsharpless@calvarychurch.com

---

The Veterans Day Breakfast is an outreach of the Calvary Military Ministry which seeks to connect and serve active duty military, Reserve and National Guard members, veterans, and all military family members in our congregation and the Charlotte community.

---

Our Featured Speaker
Dr. Don Bouldin was born in Oklahoma and grew up in Waco, Texas. After high school, he earned degrees at Baylor University and New Orleans Theological Seminary.

Pastor Bouldin volunteered for the U.S. Army and served as a Chaplin in the 17th Combat Aviation Group in Vietnam in 1968.

After his military service, Pastor Bouldin continued his education receiving a Doctorate of Ministry from Southeastern Theological Seminary and served in several seminaries and churches in Tennessee. He moved to the Charlotte area to serve the congregation of Carmel Baptist Church as its Senior Pastor and Pastor of Missions and Outreach. He retired in 2010.

Don and his wife, Dwain, have three children, 11 grandchildren, and five great-grandchildren. They reside in Matthews, NC.