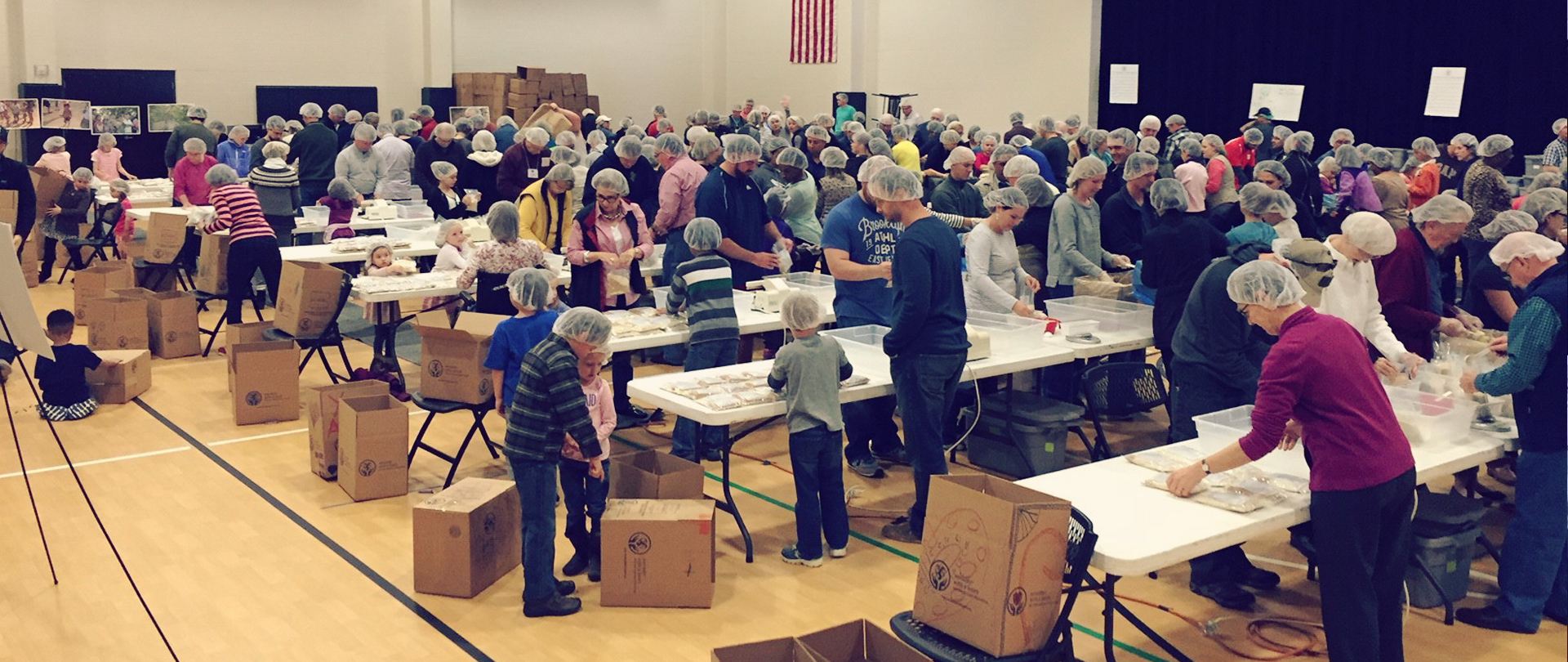 As authentic followers of Christ, we want to be active in our faith and serve Christ by serving others.
It's easy to get involved! Below is a list of some current and ongoing ministry needs, or check out our Local Ministry Partners for opportunities to serve in our community.
+

A Place of Hope
July 24–31: Shelter, meals & hospitality
Female Overnight Hosts needed!

"For I was hungry and you gave me food, I was thirsty and you gave me drink, I was a stranger and you welcomed me" (Matthew 25:35).

---

In partnership with area churches and the Salvation Army, Calvary will be providing meals and shelter for 10–12 homeless women from July 24–31 to offer a place of hope during a time of need.

Each afternoon, we will be bringing the group from the uptown Salvation Army center to our CLC for dinner, an evening activity, and an overnight stay in our "guest rooms." Each morning, we will provide transport back to the Salvation Army so the group can participate in their day program.

---

Thank you for the tremendous response for additional volunteers to support this new ministry opportunity!

Remaining needs:

Overnight Hosts (Women Only) sleep in the CLC building with guests through the night. Beds and linens are provided! Hosts arrive at 7:00 PM and may leave by 5:30 AM after the morning greeters have arrived. Hosts will pray with the women each night, make sure lights are out by 10:00 PM, assist with waking women at 5:00 AM, and keep overall watch. At this point, we do still need hosts for Saturday and Sunday evenings.

Bedding: 12 pillows, 30 sets of flat & fitted twin size sheets, 12 twin blankets or quilts. We are happy to borrow and return gently used bed linens.

Morning Greeters will arrive on-site no later than 5:30 AM. They will help serve breakfast and get guests ready to board the bus by 7:00 AM. (Various times still needed.)

Evening Greeters will welcome our guests as they arrive each night. Greeters will arrive on-site no later than 6:45 PM. (Various times still needed.)

Needs for the following roles have been filled:

Setup & Tear Down Helpers will creatively set up and decorate the designated CLC classrooms for the guests.

Weekday Evening Hosts Families or individual women from Calvary will have dinner and participate in activities with the guests.

Weekend Activity Hosts will plan and arrange activities for women on Saturday and Sunday. Suggested activities include a crochet club, boutique, beauty/hygiene/wellness activities (pedicure, manicure, hair styling).

Van Drivers pick up our guests in the morning and evenings at the Salvation Army Center uptown. Approved drivers may choose to volunteer for one or more days to drive our rental vans.

---

Find Out More!

Orientation & Training Meetings | Sunday, July 9, 12:30–2:30 PM, Banquet Room
or Wednesday, July 12, 6:30–8:30 PM, Banquet Room
Choose ONE and plan to attend this mandatory meeting. All volunteers will be trained for their specific serving roles!

---

Thank you for your prayers and your support as we plan to make our guests welcome and demonstrate the love of Christ in these practical and meaningful ways.

Interested in serving? Contact Sibu Rajappan at srajappan@calvarychurch.com or Debbie Bordwine at 704.341.5328 or dbordwine@calvarychurch.com.

+

Hearts & Hammers
Next Training: Saturday, July 15

Men, join a team to do household repairs and yard work for Calvary members who need a helping hand!

Teams gather first at Calvary once a month for devotions and prayer before heading out to their assigned home. Teams support the same care receiver on a regular basis to complete work and build relationships.

Ready to join us? The next training session is scheduled at 8:45–9:30 AM on July 15 in Room 226. To allow for preparation and any real-time updates, online registration is required at least two days prior to the training date.

Chuck Robinson

at

chuckrobinson@windstream.net

or

Jennifer Sharpless

, 704.341.5417,

jsharpless@calvarychurch.com

+

New Horizons For Children
Support our summer host families

New Horizons For Children
Summer Host Program, June – August

This summer, five Calvary families have a unique opportunity to host orphaned teens from Latvia for six weeks, beginning in June. Calvary

HOME Ministry

is partnering with

New Horizons For Children

to offer these young people first-hand experiences with positive family relationships, spiritual nurturing, healthy hygiene, American culture, and immersion in the English language.

This is an exciting opportunity for these teenagers to hear the Gospel — they have a Heavenly Father who loves them dearly and is waiting to adopt them into His eternal family!

How you can help:

Pray for the host families
Provide gift cards of $10 or $25 for restaurants, clothing, & activities
Donate dental or optometry services for the teens
Offer Latvian translation skills

Stop by Galleria table 3 on Sundays for more details or to drop off gift cards.

Volunteering with Children's Ministry: How can I help?
Hundreds of parents, grandparents, young adults, and individuals with varied gifts and talents serve with our Children's Ministry teams.

Are you gifted in teaching, story-telling, crafts, music, tech, or behind the scenes work? Do you have a passion for sharing Christ's love and the life-changing message of the Gospel with children? If so, please consider serving with us!

---

We're looking for additional volunteers during the summer months!

See below for our immediate needs, and you can serve on a rotating schedule! Contact:

Susan Grigg

, 704.341.5356,

sgrigg@calvarychurch.com

KidZone | First Grade Teacher twice a month and a Worship Leader at 9:45 AM

Preschool | Teachers & Assistants on Sundays at 9:45 AM and volunteer helpers at 11:15 AM

Nursery | Volunteers at both 9:45 AM and 11:15 AM on Sundays

Special Needs | Additional volunteers are needed during our 9:45 AM and 11:15 AM classes


Summer Storytime | We need volunteers who enjoy reading to children on July 12 & 26. Contact Suzanne Phillips, 704.887.3693

---

To volunteer to serve in our AWANA and Bible Clubs program (September – May), please contact Su Trull, 704.341.5458.

---

All Children's Ministry volunteers must have attended Calvary for six months, and all teachers must be members of our congregation. Background checks are required for all Children's Ministry volunteers. We encourage all volunteers to participate in the training sessions provided. Click here to learn more about all the different ongoing opportunities to serve within our Children's Ministries.

---

Ready to volunteer? Have questions? Contact: Su Trull, Director of Children's Ministries, 704.341.5458, strull@calvarychurch.com

| | |
| --- | --- |
| + | Coaching with CHAMP Sports |

If you have a desire to serve the Lord by working with kids and reaching out to their families, we would love to speak with you about coaching CHAMP soccer (ages 4 to 18), flag football (6 to 15), t-ball (5-6) and baseball (7-8) throughout the season. Just two to three hours a week can make a huge impact in the lives of kids!

Visit the CHAMP website at www.champsportsinfo.com for full details. Contact: Kelly Lamb, 704.887.3689, klamb@calvarychurch.com

Our Community Impact ministry coordinates important local, regional, and national issues and events, including voter registration, Life Chain in October, and Sanctity of Life Sunday in January.

Contact: Debbie Ware, 704.650.6095, deborahhware@yahoo.com

Interested in co-teaching or assisting with our international students? Classes meet 9:00-11:00 AM and 7:00–9:00 PM, September – May. For more information about our ESL classes, click here.


Contact: Vince Eaton, veaton@calvarychurch.com

| | |
| --- | --- |
| + | Food Service & Hospitality |

Have a heart for hospitality? Calvary's Food Service Ministry needs volunteers year-round in a variety of areas including table setting, food preparation, serving, and clean-up. Day and evening opportunities are available and we will work around your schedule and availability. Come join our team as we support Calvary events through the ministry of hospitality.

Contact: Eric Nizinski, Food Services Manager, 704.341.5350, enizinski@calvarychurch.com

Our local Jail Ministry presents opportunities to witness, counsel, and pray with inmates at the Charlotte-Mecklenburg jail. Small group Bible studies for men and women take place on Thursdays from 8:00–9:30 PM. A two-hour orientation is required for all volunteers.

For more information, contact Judy McElhaney, judyb.mcelhaney@gmail.com

Our Martha Ministry team supports the Calvary family by providing a meal at the church before or after the funeral of immediate family members. Volunteers are assigned to rotating teams and might serve 3-4x per year by preparing a covered dish and delivering it ready to serve.

Contact: Dalene Ingle, 704.573.0491, digiolde@carolina.rr.com or Dianne Miller, 704.577.9618, miller1994@aol.com

Calvary Prison Ministry needs men who can teach and provide biblical application and encouragement to local inmates. Volunteers are also needed to participate in quarterly worship services as musicians, singers, and speakers. All volunteers must participate in ministry orientation and consent to a background check.

Training & Orientation
All volunteers who serve inside prison facilities must receive prior training.

Contact: Guy Sorrell, 704.243.0284, ggsorrell@carolina.rr.com

Be an encouragement to our senior adults by making regular phone calls and praying for them through our Senior Telecare ministry. Callers share Scripture and must be willing to pray with people over the phone. A great opportunity for those looking for a flexible schedule!

Contact: Ron Coryell, 704.243.0715, rcory911@me.com

| | |
| --- | --- |
| + | Special Needs Opportunities |

Will you help our Special Needs Ministry by serving as a Teacher, Assistant Teacher, Friends/Buddy, or Parent Partner on Sunday mornings? We also have opportunities for volunteers to serve at our events throughout the year. Thank you!

Contact: Julie Daugherty, 704.236.1862, jdaugherty@calvarychurch.com


Street Ministry volunteers serve breakfast to hundreds of homeless neighbors every Saturday in uptown Charlotte. Participate in food preparation, or help deliver and serve the meal. New volunteers are always welcome – sign up as individuals or groups for specific dates.

A Place of Hope: During July 24-31, Calvary will be hosting a group of 10-12 homeless women in our CLC. We will be providing shelter, meals and transport as part of a partnership with area churches and the Salvation Army. Click for more information and join the Street Ministry in volunteering for this special opportunity to serve!

Contact: Pete Delahunt, 312.375.4806, pdelahunt@starpoint.com

Our Stuffing Team faithfully assembles our Looking Up newsletter for Sunday morning worship from 8:00-9:45 AM on Saturday mornings. Serve as needed or volunteer as backup for the busy holiday seasons.

Contact: Wanda Moen, wsmoen@gmail.com

Interested in joining the Calvary Choir, Orchestra/Praise Band or Technical team? Click here to learn about the many ways you can be a part of Worship Ministries.